UCC Flexi Pave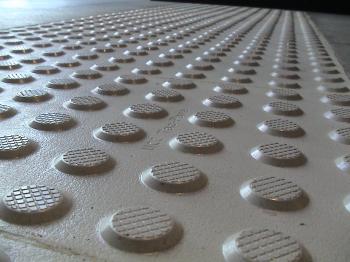 Product Description
Strong, Thin & Flexible
UCC FlexiPave is a super thin Fibre Reinforced Polymer Concrete TGSI. Characterised by its flexibility, high strength & durability, quick installation and colour choice.

Why is FlexiPave the leading retrofitting TGSI on the market?
UCC FlexiPave is Highly Versatile, delivers a retro-fitting TGSI that can be applied to most surfaces such as, concrete, asphalt and steel. The flexible TGSI can meet existing surface undulations & irregularities, cross expansion joints and cover pit lids.


UCC FlexiPave offers the Highest Available Life Expectancy of any retro-fitting TGSI currently on the market, with a life span of up to 10 years. FlexiPave cures to approx. 50MPA, delivering a tactile with the capacity to withstand high pedestrian traffic and light vehicle traffic.



Minimise Construction Time,

Forget rebates, excavation, sawcutting, drilling or days of traffic management, with minimal surface treatment UCC FlexiPave looks great laid, goes down super fast and outperforms the rest.



Minimal Down Time

, with an approx. cure time of less then 1 hour, the site can be trafficable within 2 hours.



Minimise Maintenance & Your Risk Against Public Liability Claims,

FlexiPave does not lift or become dog eared, crack and break into sharp pieces or delaminate. At only 2mm thick the tactile is laid virtually flush with the existing surface without danger of creating a tripping hazard.



Simply Maintained

, FlexiPave is unique in that we can simply maintain the product once in place. FlexiPave can be rejuvenated with a durable surface coating similar to a long life road marking compound.


We currently hold the Largest Tactile Installation Team in Victoria and service sites of the highest demand. Current & previous works include, Vic Roads, V-Line, Yarra Tram, Department Of Infrastructure, Eastlink Project, various Shopping Centres' etc.


UCC FlexiPave fully conforms to A.S 1428.4 & DDA requirements. It is approved by

Vic

Roads & Melbourne

City

Council (MCC)

.

We certify all our works to be in accordance with A.S.1428.4 and offer a full 1 year warrantee on the Supply & Install of our work.



Offered in a range of colours to ensure luminous contrast compliance.
Characteristics
Dimensions: 300x600x2 (mm)
Material: Fibre Reinforced Polymer Concrete
Colour:

Ivory, Yellow, Red, Steel Grey & Charcoal
Commanding the Victorian market in innovative retrofitting solutions
Price
Supply and Install: $350 - $400 per sqm